All Supplements
Liquid Molybdenum Supplement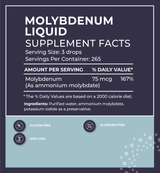 Molybdenum is essential for the production of uric acid*.
Subscribe and Save
✔ Save 15% monthly
✔ Pause, edit, cancel after your first 2 months
✔ Free Shipping
Discount will automatically apply to your subscription..
15% OFF applies only to retail price
*Discount codes do not apply to subscriptions
Max. 2 bottles per subscription. Email help@bodybio.com if you are interested in more.
Liquid Molybdenum Supplement Details: What It Is and How to Take It
Liquid Molybdenum Supplement's Role in the Body
Molybdenum is essential for the production of uric acid*. 
Minerals are absolutely essential for our body to function in a healthy manner.

Molybdenum is #7 in the BodyBio Liquid Minerals Set. 
Want to test your own mineral levels?
Learn more here. 
read more
Ingredients
Purified water, ammonium molybdate, potassium iodide as a preservative.
read more
Suggested Use
As a mineral supplement, add 3 drops in water or juice daily, or more as directed by a licensed health care practitioner.
read more
Frequently Asked Questions
What are Liquid Minerals used for?
Minerals are essential, but depleted in most people, probably because of today's over-fertilized, over-pesticized farming. Since heavy metals ("bad minerals"), such as mercury, lead, cadmium, etc., are more prevalent in our society than ever before, it is believed that the intake of "good minerals" will help remove those toxins ("bad minerals").
One mineral can, and will, displace another with the same ionic value. By taking good minerals, we help displace bad minerals & mobilize them out of the body. It's a double nutritional hit: adding needed minerals and detoxing at the same time.
Why are your Liquid Minerals in liquid form?
Minerals taken in liquid form are more readily absorbed in the body. Using the Liquid Mineral Taste Test Instructions gives you the ability to taste them and then take only the ones you need.
Is the dosage listed on each bottle suitable for a child?
Yes, however if the child is taking other supplements or medications, we recommend speaking with your health care practitioner. Since the dosage is measured in drops, the dosage is easily adjustable.
Are your liquid minerals Ionic or Colloidal?
Our liquid minerals are ionic. Ionic minerals dissolve in aqueous solution (water), while colloidal minerals are suspended in aqueous solution.
Are there any side effects from taking Liquid Minerals?
None have ever been reported to us.
Can your Liquid Minerals be taken on an empty stomach?
They can be taken on an empty stomach but we recommend taking them with food.
BodyBio Liquid Molybdenum Supplement Reviews
Terry

It seems to be a great product…I notice a good difference in my health and stamina

Miracle in a bottle!

I had this( occasional but extremely disruptive) problem with large amounts of gas in upper digestive tract, it was so painful that it would keep me up at night. I suspected a mild SIBO, tried supplementing with hydrochloric acid and felt a mild improvement, but even with that I was staying away from all cruciferous vegetables that I used to love and anything fermented including sauerkraut, keffir and red wine. Molybdenum fixed it all for me to the point where I can have all these products again and not experience any discomfort. I'm not new to functional medicine and supplements, but it's the first time that I've found something as effective. Thank you, Bodybio! I'm keen to try more of your products and was wondering if PC can be taken together with Molybdenum?

Miracle worker!

I am allergic to sulphites, even low levels trigger migraines. I read that molybdenum is essential to the production of uric acid to clear the body of toxins including sulphites. I've been taking this supplement for 3-4 weeks and haven't had a migraine in that time.

Just as incredibly, I felt a migraine coming on after accidentally consuming sulphites but 3 drops of this in a glass of water headed it off. I'm amazed at how effective it seems to be.

B

BodyBio

9 months ago

We're so happy to hear you are pleased with Molybdenum!

Team BodyBio

Molybdenum--Works

The Molybdenum is a rare mineral for separate consumption, and hard to get hold of in this form. It was already dissolved, and easy to take. It works. Thank you.

L.Clarke

Too soon to tell properly, as yet no problem.

Otherwise have been using your products for many Years without any issues.

Thank you
Reviews Loaded
Reviews Added
We manufacture and rigorously test quality at our New Jersey HQ
We carefully source the highest quality raw materials for our products – never oxidized or heat treated
For over 25-years BodyBio has remained a family business. It's why we treat our customers like family and why thousands of doctors trust us with their patient's health