All Supplements
Liposomal Vitamin C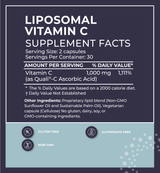 Our pure, non-GMO Vitamin C delivered in a liposomal form––ensuring maximum absorption for powerful immune and antioxidant support*.
Subscribe and Save
✔ Save 15% monthly
✔ Pause, edit, cancel after your first 2 months
✔ Free Shipping
Discount will automatically apply to your subscription..
15% OFF applies only to retail price
*Discount codes do not apply to subscriptions
Max. 2 bottles per subscription. Email help@bodybio.com if you are interested in more.
5 Benefits From Liposomal Vitamin C Supplementation
Vitamin C is your immune system MVP, enhancing epithelial barrier structure, neutrophil function, and ultimately helping to destroy harmful microbes in the body.*
Vitamin C is our most essential antioxidant, protecting nutrient molecules like proteins and lipids from oxidative stress and damage.*
Real liposomal vitamin C can easily cross the blood brain barrier, where it can be immediately used to produce neurotransmitters for mental support and mood regulation.*
Vitamin C helps produce collagen, the structural "glue" that holds us together.*
With our proprietary liposomal encapsulation technology, you get maximum vitamin C absorption allowing this key nutrient to work for you on a cellular level.
Liposomal Vitamin C Details: What It Is and How to Take It
Liposomal Vitamin C's Role in the Body
Our pure, non-GMO Vitamin C delivered in a liposomal form––ensuring maximum absorption for powerful immune and antioxidant support*.


read more
What is Liposomal Vitamin C?
BodyBio Liposomal Vitamin C is the same high-quality Quali-C pure ascorbic acid you know, plus our new liposomal encapsulation delivery technology––ensuring that you get the most bioavailable and easily absorbable vitamin C that your cells crave.
Our Liposomal Vitamin C supports the immune system, neurotransmitters, the brain, adrenals, gut health and more.* A more absorbable vitamin C means that more of this key nutrient can get to every organ and system in your body that needs it (which is just about all of them).
Liposomal Vitamin C also helps support the body's inflammation response and protects the body from free radicals, toxins, environmental pollutants, stress, and supports healthy detoxification pathways.* Use Liposomal Vitamin C for daily support and/or in times of acute stress on the body, such as coming down with a cold or flu.
read more
Why Choose BodyBio Liposomal Vitamin C?
Our liposomal technology is a powdered liposome––free-flowing particles that immediately form a liposomal suspension when digested. That's right, no messy liquids here. These liposomal particles stay encapsulated during the journey through your stomach, and the particles are released when they reach your large intestine, where they can be easily absorbed through the gut lining and into the bloodstream.
Plus, our liposomal technology is clinically proven to have 3-6x better absorption than a traditional liquid liposomal formula. That means more vitamin C getting into your cells, right where it needs to be. BodyBio Liposomal Vitamin C ensures that you get the biggest immune system, neurotransmitter, and antioxidant boost possible in an easy-to-take daily dose.*
The vitamin C we sourced is from Quali-C, manufactured in Scotland, prized for its quality and reliability.
read more
Ingredients
Quali-C Vitamin C, lipid blend (non-GMO sunflower oil & sustainable palm oil), vegetarian capsule (cellulose).
read more
Suggested use
Take 2 capsules per day with or without food, or use as directed by your Healthcare Professional.
read more
Plasma Vitamin C Concentration Levels
Compared with "normal" Vitamin C ingestion (single dose of 4g), ingestion of Liposomal Vitamin C (also 4g) leads to appreciably greater circulating Vitamin C concentrations.
What To Expect When You Start Taking Liposomal Vitamin C supplements
Immunity boosts, and antioxidant power protects proteins, lipids, and DNA from free radicals and toxin damage. Regularity also improves, relieving toxic burden on the body.
You [may] notice you feel more even-keeled and have more mental energy. Skin begins to brighten and appear firmer and smoother. Bones and joints are strengthened, feeling less achy or creaky and more supple and strong.
Overall inflammation in the body is lowered, and immunity, bone, and gut health are strengthened. Mood is stable and resilience and focus are easier to maintain. Any previous vitamin C deficiency is corrected and balanced in a healthy range.
Frequently Asked Questions
What's the difference between vitamin C and Liposomal Vitamin C?
The difference is bioavailability and absorption. Traditional vitamin C, whether it is encapsulated or taken as a powder or non-liposomal liquid.
How do you take Liposomal Vitamin C?
With our Liposomal Vitamin C, the same way you would take any other capsule! Pop two caps in your mouth and swallow with water. Just make sure you're well hydrated so that the liposomal particles can reach their full potential.
When should you take Liposomal Vitamin C?
You can take BodyBio Liposomal Vitamin C at any time, although vitamin C does give some people an energy boost, so maybe not right before bed. Otherwise, take it with or without food, daily or as needed for immune or neurotransmitter support.
What dosage of Liposomal Vitamin C should you take?
Use Liposomal Vitamin C for daily support and/or in times of acute stress on the body, such as coming down with a cold or flu. Take 2 capsules per day with or without food, or use as directed by your Healthcare Professional. 2000 mg is the tolerable upper limit for most and can be used as a therapeutic dose. Our Liposomal C dosage can be increased without gastric distress and we recommend speaking to your doctor about higher doses.
Does Liposomal Vitamin C have any side effects?
Vitamin C is well known for causing gastrointestinal distress when taken in high doses. However, liposomal vitamin C minimizes this risk due to rapid absorption by the body. Though unlikely, liposomal vitamin C may initiate a Herxheimer reaction––flu-like symptoms that can occur when the body begins to rapidly detoxify and the elimination systems become overwhelmed with the sudden toxic burden released from the tissues. If this occurs, simply cut back on your dosage or stop altogether until you recover. As always, consult with a Healthcare Professional if you have a reaction or concern using liposomal vitamin C.
Can children take Liposomal C?
One capsule Liposomal Vitamin C provides 500 mg Vitamin C, which is 556% DV for ages 4+. While limited studies have shown benefits to liposomal forms of specific vitamins and minerals, this also means that the Vitamin C content is much higher than the FDA's recommended daily value. We do not recommend for children under 6.
For younger kids, ages 3 and up, based on the FDA's recommended intake of 90 mg Vitamin C daily we recommend our Vitamin C Crystals mixed with our Liquid Minerals. For more information, check this out: National Institutes of Health fact sheet for Vitamin C. We recommend speaking with a knowledgeable pediatrician, nutritionist, dietician or naturopath to determine if this product is right for your child.
How should I dose BodyBio Liposomal Vitamin C?
Our label dosage of 2 capsules daily is a preventative or maintenance dose. If you are trying to treat something more acute or feel infection or illness coming on, we suggest a more therapeutic dose of 2 capsules over 2-3 hours. Because of the liposomal mechanism to our Vitamin C, you will not experience gastric distress with high doses, which you typically would with a non-liposomal formula.
BodyBio Liposomal Vitamin C Reviews
High quality

Fantastic quality product. I've noticed my brain fog has cleared up since switching to vit c with lipsomal

Phenomenal

I absolutely can tell a difference when I added vitamin C

Liposomal Vitamin C

I love this product. I take it in the morning and again at night. When everyone around me is getting sick, I stay healthy.

Liposomal Vitamin C

It works great. We love its absorption ability… with so many viruses going around , we depend on this much more than ever.

MaryAnne G

No complaints

I haven't been taking it for very long so I'm not sure if I'm seeing any obvious benefit yet. I can be reactive so I'm careful to use any new products one at a time with a decent amount of time in between. I can say that I am tolerating it well and will continue to use it. As with my other BODYBIO products, I anticipate positive benefits to follow.
Reviews Loaded
Reviews Added
We manufacture and rigorously test quality at our New Jersey HQ
We carefully source the highest quality raw materials for our products – never oxidized or heat treated
For over 25-years BodyBio has remained a family business. It's why we treat our customers like family and why thousands of doctors trust us with their patient's health