All Supplements
TUDCA (Tauroursodeoxycholic Acid) Supplement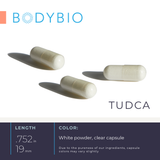 TUDCA is a bile acid naturally formed in the body that supports the digestion and utilization of fats and oils and demonstrates neuroprotective benefits*.
Subscribe and Save
✔ Save 15% monthly
✔ Pause, edit, cancel after your first 2 months
✔ Free Shipping
Discount will automatically apply to your subscription..
15% OFF applies only to retail price
*Discount codes do not apply to subscriptions
Max. 2 bottles per subscription. Email help@bodybio.com if you are interested in more.
3 Benefits From TUDCA (Tauroursodeoxycholic Acid) Supplement Supplementation
TUDCA provides digestive support for those who may not be producing enough bile on their own.* Bile in the small intestine is very important for the digestion and absorption of fats and nutrients from the foods you eat. Bile also breaks down foods, cholesterol, and destroys some harmful bacteria.
TUDCA acts as a mitochondria stabilizer, and antiapoptotic agent (inhibiting apoptosis) in neurodegenerative disease including, Alzheimers, Parkinson's, ALS, and Huntington's Disease due to its neuroprotective benefits*.
TUDCA (Tauroursodeoxycholic Acid) Supplement Details: What It Is and How to Take It
TUDCA (Tauroursodeoxycholic Acid) Supplement's Role in the Body
TUDCA is a bile acid naturally formed in the body that supports the digestion and utilization of fats and oils and demonstrates neuroprotective benefits*.

TUDCA supports digestive ability by supporting healthy fat metabolism and breakdown as well as proper nutrient absorption. It is also supportive to cellular and mitochondrial health. 
However, the human body only produces small amounts of TUDCA (or tauroursodeoxycholic acid). In a healthy person, digestion re-circulates some 95% of the body's bile salts. Poor diet, decreased liver function, and certain medications can impair this process. This is where supplementation is key. 
read more
Why Buy BodyBio TUDCA?
Quality matters. We don't use fillers or additives. There is no way to achieve the powerful benefits of Tudca without strict internal and external quality control. The raw materials of BodyBio Tudca undergo extensive testing for the presence of mold prior to encapsulation. BodyBio's Tudca supplement is free of wheat, gluten, yeast, soy, dairy, artificial colors, and resins.
Benefits:
Supports the digestion of fats and oils*
Promotes a healthy microbiome with healthy biodiversity*
Supports a healthy inflammation response in the GI tract to help prevent leaky gut*
Helps reduce cellular stress & protect DNA*
May address fatty liver, biliary cirrhosis and hepatitis*
May be effective in supporting neurological concerns*
Assists in clearing toxins*
Stabilizes the cell membrane*
Works with other bile salts to prevent premature cell death (apoptosis)*
Eases stress on the endoplasmic reticulum (ER) to improve protein folding*
May provide neuroprotective benefits.*
May help regulate the immune system*
May affect genetic expression and mitochondria*
May dissolve gallstones before they are completely formed*
May cause liver and muscle to be more sensitive to insulin (High insulin sensitivity helps cells use blood glucose more effectively, which can help reduce blood sugar.)*
read more
Specifically formulated to:
Support digestion*
Support the liver*
Neuroprotective support*
read more
Ingredients
Tauroursodeoxycholic acid, rice flour, gelatin (capsules)
read more
Suggested Use
1-2 capsules with food, unless otherwise directed by your healthcare professional.
read more
What is TUDCA?
TUDCA (or tauroursodeoxycholic acid) is a supporting bile acid integral to the digestion of fats/oils and detoxification of the gut and liver*. At the cellular level, TUDCA transports helpful molecules into the cell and helps to protect from cell degradation and apoptosis.* It also assists in clearing cellular debris from the mitochondria and cell membrane.* In the microbiome, it improves gut bacteria diversity. It has also been shown to support eye health.*
What To Expect When You Start Taking TUDCA (Tauroursodeoxycholic Acid) Supplement supplements
Supports intracellular cholesterol (which you cannot feel but it's good to know)! Aids in digesting fats and helps support healthy bile blow.* You may notice that taking after high fat meals helps with digestion.
Supports insulin sensitivity, increased liver function, & promotes the growth of healthy bacteria in the microbiome for decreased inflammation.*
Brain support – TUDCA works as a "chaperone" to interrupt protein misfolding to overcome neurological concerns.*
Frequently Asked Questions
Is TUDCA the same as Tauroursodeoxycholic Acid?
When is the best time to take TUDCA?
If you're wondering about when to take TUDCA, we recommend one to three times daily with meals. It may be taken with or without food. We recommend taking it with food to support absorption. If your gallbladder has been removed, taking it with food may aid in digestion. Research shows TUDCA's benefits occur anywhere from one to six months of daily use.
What's the suggested TUDCA dosage?
The suggested dosage is take 2 capsules per day or use as directed by your Healthcare Professional. 1750 mg is the tolerable upper limit for most and can be used as a therapeutic dose for as long as one month. TUDCA is suitable for those without a gallbladder.
Does TUDCA have any side effects?
TUDCA supplements are generally considered safe when taken in the recommended amounts. Some have experienced diarrhea when taking more than 1500 mg daily, which is not recommended. There are no other reported TUDCA side effects.
Can you take TUDCA if you do not have a gallbladder?
How long does TUDCA take to work?
Research shows TUDCA's benefits occur anywhere from one to six months of daily use.
Is this TUDCA sourced from bear or bull bile?
BodyBio's TUDCA is not derived from bear bile, bull bile, or the bile of other animals.
Does this TUDCA contain melatonin and will it make me drowsy?
BodyBio TUDCA (Tauroursodeoxycholic Acid) Supplement Reviews
Question about Delivery

Hey!! I have seen such beautiful reviews of your product. I m looking forward to place a order but there is a problem, I wanna ask about it. Can you deliver this Tudca to Pakistan or UAE?

B

GREAT SUPPLEMENT!

It really helps with digestive issues. Many thanks

Highly Recommended

I'm learning about the benefits of TUDCO. So far, so good!

TUDCA

After decades of explosive potty issues, this product appears to have helped about 80%. My Mother had gastric bypass surgery in about 1973. They also took out her gallbladder. This issue has almost killed her. She is homebound because of it. This may change her life. Thank You for producing such quality products.

Great product

I took this for about two weeks and saw great improvements in my mood.
Reviews Loaded
Reviews Added
We manufacture and rigorously test quality at our New Jersey HQ
We carefully source the highest quality raw materials for our products – never oxidized or heat treated
For over 25-years BodyBio has remained a family business. It's why we treat our customers like family and why thousands of doctors trust us with their patient's health